Sterling rallied as traders took advantage of its slide to a five-year low against Europe's single currency and a drop to its weakest level since 1985 versus the dollar. It tumbled after Prime Minister Theresa May set a March deadline for triggering the nation's exit from the European Union, with its drop hastened by reports that she wouldn't give financial services special treatment in negotiations with other leaders.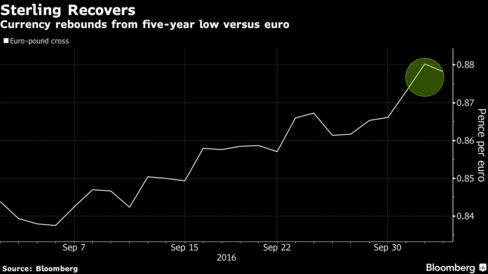 "People will be starting to think, yes, we've had some newsflow about Brexit, but does this really imply that we'll have a hard Brexit — isn't it still more likely we'll have a soft Brexit?" said Ulrich Leuchtmann, head of currency strategy at Commerzbank AG in Frankfurt. "It's a perfect time to take profit because this kind of newsflow that's been hitting sterling in the last few days now abates."
The pound strengthened 0.2 percent to 87.86 pence per euro as of 4:44 p.m. in London, after touching 88.43 pence, the weakest since September 2011. It appreciated 0.1 percent to $1.2741, having touched $1.2686, the lowest level since 1985.
Brexit Priorities
The prospect of a deal that prioritizes controlling immigration at the expense of special access to the single market has spooked currency traders in recent days, sending the pound lower. Still, May has given little away in terms of what sort of Brexit deal the U.K. will actually seek from the EU's 27 remaining members, telling delegates to the Conservative party conference today that she won't be giving a "running commentary" on the talks once they start.
"There's a bit of buying interest and consolidation after a pretty sharp move lower," said Viraj Patel, a London-based foreign-exchange strategist at ING Groep NV. "But we still think sterling will remain well-offered going into this week's U.S. jobs report," which is due Friday and is forecast to show an uptick in hiring.